Your Healthcare

Begins
at home.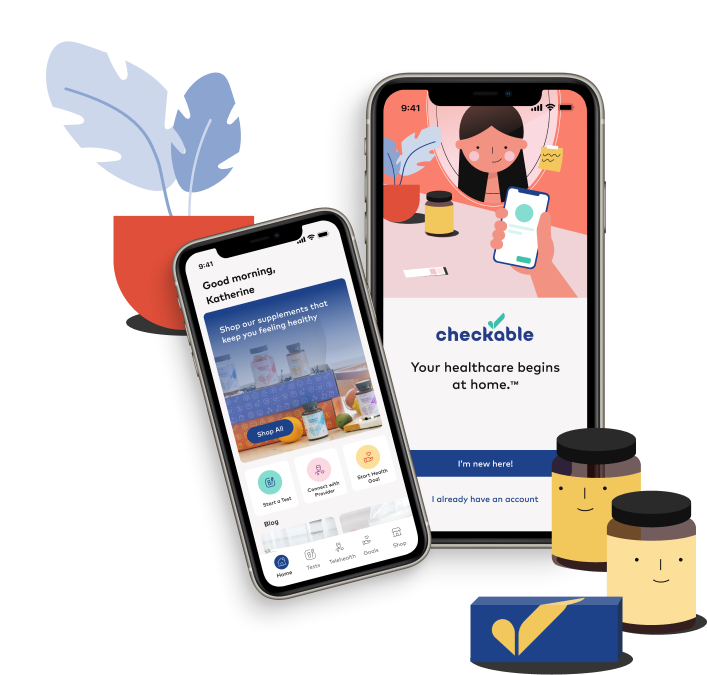 Your Healthcare
Begins at home.™
Checkable is revolutionizing what it means to take health into your own hands with easy-to-administer diagnostic tests, accurate results, and an app connecting you with telehealth providers. You can get treated, diagnosed, and get the prescription you need to get on the road back to health in a matter of minutes.

Create and Work Toward
Health Goals
Whether you're looking to form healthy habits like exercising and getting enough sleep, or need support with managing health conditions and related medications, Checkable is here to support you along your health journey every step of the way with reminders, insights, and goal-achieving tips.
Healthcare at your fingertips.
Skip the time-consuming doctor's visit with Checkable at-home diagnostic screening kits. Use the kits alongside our app's guided test instructions to get fast and accurate results from the comfort of home. The app is paired with a proprietary digital telemedicine platform that instantly connects you with healthcare professionals to get you the care you need.
Telehealth, Test Kits, Supplements and More
Checkable health products and services are all integrated in one easy to use app. In just a few taps you can stock up on your favorite Checkable supplements and diagnostic kits all in one app. Plus, our telehealth platform directly connects you to healthcare providers, so you can get the treatment you need quickly and efficiently.